The weather has started to get warmer, the days longer – summer is on its way! And while we're sure most of us are looking forward to enjoying some sun rays and making the most of getting outdoors, there are a few things you should do to prepare for summer before the warmest weather is upon us. Here's a look at a couple of summer preparations to make leading into the warmer months.
Get Fire Ready!
Preparing your property for the bushfire season is a critical element in any bushfire survival plan. Even if your plan is to evacuate the property in the case of an emergency, a well-prepared property is more likely to withstand the onslaught of a bushfire after you evacuate. These are out top 5 points to getting your property bushfire ready:
Clean the gutters of your roof
Over the course of the year, gutters are known for becoming a home for leaves, twigs and other flammable debris. In the event of a bushfire, this type of debris becomes fuel – and being right on top of your house makes your home a definite target for destruction.
Keep your lawns mowed
Removing any long grass will help protect your property. This is about reducing the amount of fuel available for a fire. Make sure any long grass is removed and disposed of throughout the summer months. Continue to also maintain your gardens through summer to remove limbs and any debris that has fallen from trees or blown onto the garden beds that could further fuel a fire.
Clear your land in line with the 10/50 rule
As discussed in our previous blog, "How the new 10/50 rule helps protect against bushfire devastation", now is the time to contact us about removing any trees within a 10m radius of your home. The removal of trees and shrubs from the immediate vicinity of your house again reduces the amount of fuel within a close proximity, keeping your home safer in the case of a bushfire.
Check for gaps in your home
Embers are known to enter homes through gaps in walls, roofs, evaporative air conditioners and gutters. Do a thorough inspection of these areas and ensure any gaps are closed. Installing stainless steel open weave mesh over windows, doors, sky lights and the evaporative cooling unit is a great way to keep these gaps closed and embers out.
Do a final visual inspection
Finally, complete a visual inspection of the property and ensure you remove anything that could act as fuel in the case of a fire. For example, if the space under your house is cluttered, maybe now is the time to remove junk and clean up. Also ensure that any flammable fuels and chemicals are stored away from the house and secured in an enclosed shed.
Garden Maintenance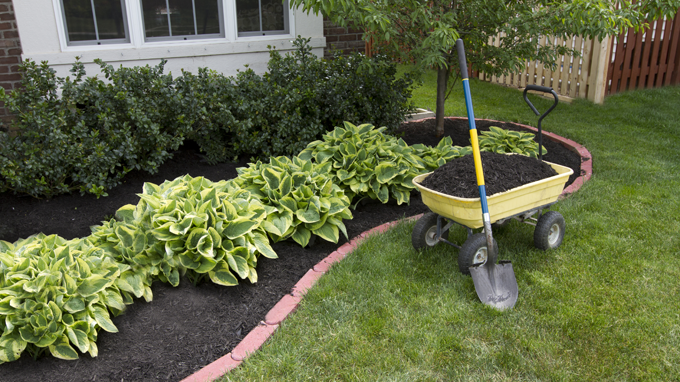 Mulching before summer helps retain moisture, reducing the need to water garden beds
Another consideration coming into the warmer months is garden maintenance. This isn't in the sense of being fire ready, but to keep you gardens looking great through summer! Now is the time to begin mulching your gardens. While we're all aware that mulching prevents weeds and weed seed germination (which obviously helps in maintaining a beautiful garden!), the key reason you'll need to apply mulch prior to summer is for water conservation. Mulch actually stops the top layer of soil from drying out and has been known to reduce watering by about 60%. It also keeps the soil temperature more constant, giving the plants an easier environment to thrive in. Mulching your garden beds before summer will help retain the moisture already in the soil, and reduce the amount of water you need to apply throughout summer.
If you need assistance getting your property ready for summer, contact us today! We can assist with tree and branch removal, dead wood removal, firebreak pruning, wood chipping, mulching, plus much more! Send us an enquiry today or give us a call to discuss your requirements.